Top 18 Blouse Designs for Wedding Silk Sarees 2018 [ Latest Trends & Tips ]
Saree blouse plays an important in the saree's overall appeal.
No matter how beautiful a saree is, an imperfect blouse can ruin the look of your saree. The beauty of the saree accentuates only when it is matched with an appropriate blouse in a perfect fit.
It is important to select suitable Blouse Designs for Wedding Silk Sarees and patterns that complement the saree as well as your personality.
You can experiment with various trendy blouse neck patterns and sleeve designs for your blouse. Designer sarees and custom made designer saree blouses from boutiques are the hottest trends right now.
You can customize your wedding saree blouse with Maggam work, Kundan work, zardosi work, stonework, thread embroidery etc. to create the rich look.
If you want your saree to grab the attention and keep the blouse simple and elegant you can try simple and stylish blouse back neck designs and elbow length sleeves with big borders etc.
Let's see some popular and trendy blouse designs for traditional wedding silk sarees.
18 Blouse Designs for Wedding Silk Sarees
1. Embellished Elbow Length Sleeves Blouse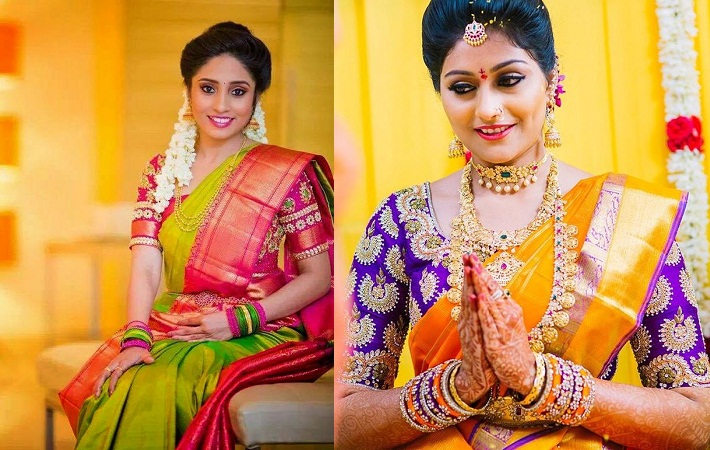 Elbow length sleeves blouses with embellished sleeves add the rich look to the traditional outfit and have been in great demand, in recent times. The most popular elbow length sleeves designer blouse for wedding sarees is the one Kajal Aggarwal is wearing in the below picture known as Vanki design blouse, designed by Kavitha Gutta of "Golden Threads" Boutique, Hyderabad.
2. Red Sabyasachi Blouse With Heavy Embellishment And Sequin Work
This is a flawless Sabyasachi creation, so you can be sure that it will be exquisite. The gorgeous interplay of three highly appealing colors in red, soft pink and light gold work exceedingly well and the trendy neck design is very stylish and contemporary. The detailing, as with most Sabyasachi Indian blouse designs, is on point and the hand embroidery really puts the icing on the cake for this creation.
It is the perfect blouse for party wear and will work extremely well with a plain chiffon saree.
3. Plain Elbow Length Sleeves Blouse
As the name suggests the sleeves of these blouses are covered till the elbow. Simple plain elbow length sleeves silk blouse with the big border for sleeves are in trend now and they give an elegant look for your wedding saree.
4. Classic Puff Sleeves Blouse
Puff sleeves blouse designs have been around a long time. Wearing a puff sleeves blouse with traditional kanjeevaram saree gives a feminine look. They look great on young people. Puff sleeves blouses can be of several types. Here are some chic and stylish puff sleeves blouse designs for pattu sarees.
5. Indian Blouse Designs – The Colorful Minimal Embroidery Blouse
This gorgeous blouse features a whole assortment of colors ranging from pale yellow all the way to light green, with an assortment of reds, pinks and blues thrown into the mix as well. The overall result? A gorgeous blouse that's excellent for a fun time out in the town.
The deep back design of the blouse makes a big style statement and the use of various bright and attractive colors means that the blouse is perfectly embellished even without heavy mirror or zari work.
6. Kundan Work Blouse
Kundan work blouses give rich look to the outfit.
7. Cut Work Blouse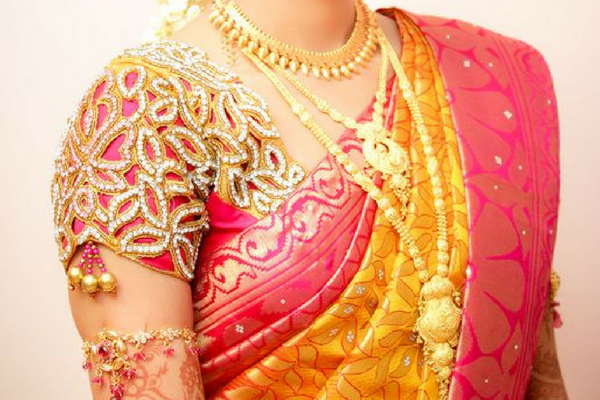 Some stunning cutwork embroidered blouse designs for bridal sarees.
8. Maggam and Stone Work Blouse Designs
Beautiful maggam and stonework blouses look rich and festive. They are perfect to be worn at weddings!
9. Net Blouse Designs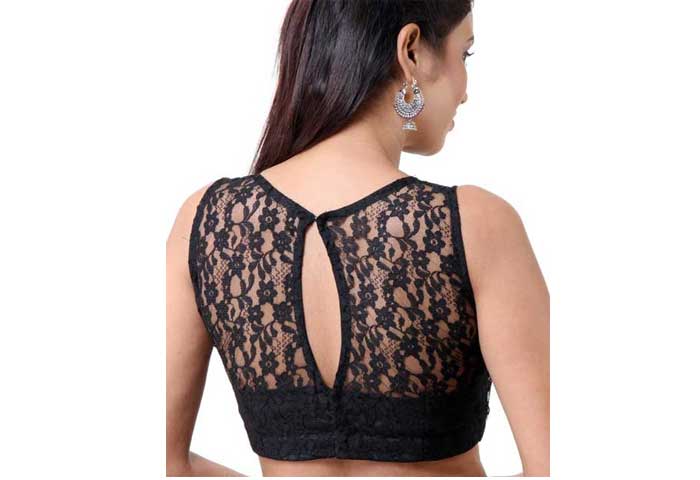 Net blouse designs are most popular nowadays.They look fashionable and sensuous. Net fabric can be incorporated into the blouse in different ways like sleeves, neckline or back. These Net blouse designs add a modern touch to your traditional silk saree.
10. Sequinned Pink Embroidered Blouse
This uniquely stylish blouse design features in an attractive and youthful pink, which girls will find perfect for everyday wear in the days of summer and even on winter nights. The blouse is embellished with sequinned embroidery but it has been done in a non-symmetric manner that really makes the blouse stand out from the rest and makes it a very stylish and trendy option for regular wear.
11. Violet brocade traditional celebrity blouse design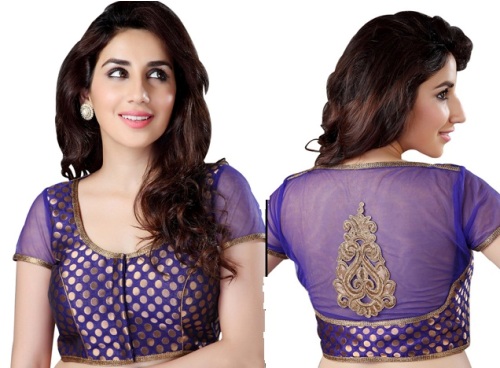 We're bowled by how Parineeti has styled this traditional Bengali look for one of her movies promotional event. Look at the flamboyance displayed through her sheer brocade violet and gold luxe thread work blouse contrasting with her ultra-glam fushcia pink and gold benarsi silk saree. You can get your hands on this exotic piece of blouse that will easily match and coordinate with any solid colored saree.
12. High Neck Blouse
High neck blouses add a royal look to ethnic attire. They give a nice and fresh look when compared to regular traditional blouse patterns. Designers are creating these high neck saree blouses in different fabric combinations with intricate embellishments. When you wear high neck blouse skip wearing necklaces. In this case, you can choose heavy earrings like the chandelier, big jhumkas or chandbalis.
13. Full Sleeve Blouse With Bold Patterns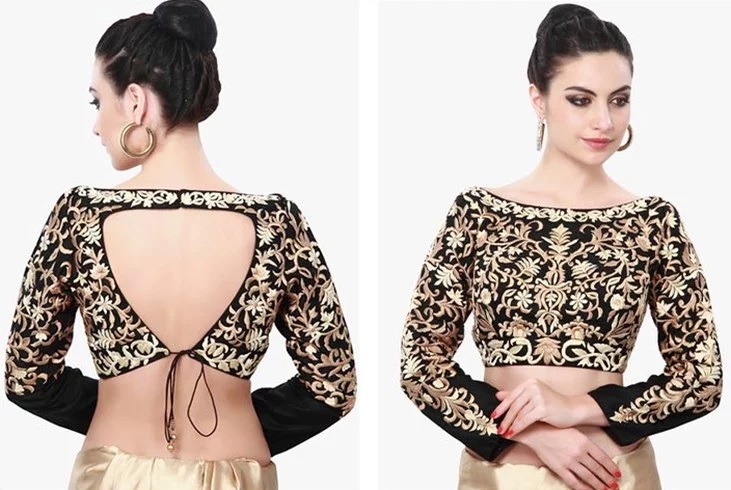 This gorgeous blouse works exceedingly well if you pair it with a soft and light pink saree. As far as Indian blouse designs go, this one is a newer, more avant-garde version, and is quite popular on the red carpet too. The long sleeves featuring the bold pattern work very well for this blouse.
Other combinations that will work very well for such a bold blouse would be pairing it with a red saree with embellished borders or a mustard coloured chiffon saree.
14. Net Saree Blouse Designs for that Royal Touch
Sophesticated net blouse design with a cut at the back that one simply cannot ignore. The patchwork on the right side adds a touch of elegance. Indeed, an elegant blouse for a night-time party.
15. Round Cut Out Back Neck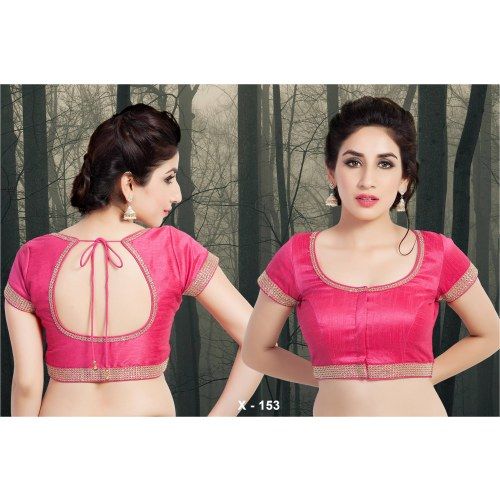 These blouse designs have round cut out detail on the back. An intricate maggam work, stone work, kundan work or zardosi work outlining the cut out back gives the blouse a stunning look. A beautiful tie back tassel on the back adds extra galmour to the blouse.
16. Blouse with Artistic Sleeves
Sleeve length and style make a dramatic impact on the look of a blouse. It's an important design element and an essential part of making the bride feel comfortable and confident on her special day. A simple embellished blouse with attractive sleeves like the ones shown below (designed by Bhargavi Kunam) can add glamour to your traditional outfit.
17. Olive embroidered quarter sleeve blouse design
Let the sparks of style shine bright as you walk down in this bottle green olive colored embroidered quarter sleeve blouse deign. With patterns and craft that epitomize the rich cultural heritage of India, this blouse is a sheer representation of the exotic appealing past. This is a visual treat for all those who are fond of fashion and follow it quite closely. So, if you're one of them, don't lose your chance to weave the tale of romance and nothing better than the intricate bird design.
18. Back Neck Pattern
Blouse back neck pattern plays an important role in the over all look of the blouse. There are several blouse back neck styles like round back neck, sweetheart neck blouse, square neck blouse, V neck blouse, boat neck blouse, U neck blouse etc. Choose the style best suited for your body type. Here are some interesting back neck blouse patterns for silk sarees.
Latest Trends – Wedding Silk Sarees' Blouse
Nowadays Net Blouses and Velvet Blouses are in the current fashion. Coller Neck Blouse and Full Sleeves are getting in trend in the Wedding Collection of Blouse Designs.
Young Girls mostly prefer to wear backless blouses therefore for them Net Back Blouse Designs are in our collection to give them more pretty looks.
Tips For Blouse Design
If your are preparing heavy embroidery blouse design, then keep simple shiffon saree with that or also can take simple printed saree.
As blouse is printed, then keep saree plain or simple border designed
Also make some hairstyle matching to the saree pattern to look stylish and different
And also wear heels with saree and some accessories with the saree to get some traditional look
Anita Dongre Designer Deep Back Pink Blouse With Zari Work
This bright pink blouse by Anita Dongre takes the forefront and relegates the entire ensemble to the background.
Its shocking pink colour makes it really stand out, and its gorgeous detailing on the peripheries will draw both envious looks and nods of agreement.
Either way, it's a great looking blouse and a great option for party wear, especially when paired with a beautiful plain light colored saree as above.
The combination of a plain saree and delicately embroidered blouse makes this a great evening wear option, even for formal occasions.
PRO TIPS
Keep these tips in mind before opting for a deep back blouse. Time to bring sexy back!
Clean your back and wax it so that you can go ahead and flaunt it with confidence.
Choose your bra perfectly so that it does not show up when you put on your blouse.
Fasten all of the strings, hooks and clasps perfectly on the back of your blouse.
Choose your hairstyle to match your blouse. For example, if you're showing off your back, wear your hair up.
For an enhanced effect, you could use mehndi or other temporary tattoos to go along with the blouse and add more style to your look.
Source : http://www.sadibyah.com/top-10-blouse-designs-wedding-silk-sarees/
How To Buy a Trucker Hat?
Introduction
You know that icky ring that gets around the top of a hat from sweat? That ring that looks black and icky. When that ring gets out of control then it is time to get a new hat. But how do you know what kind of hat to get? Trucker hats are comfortable, stylish and can help keep the sun out of your eyes. Whether you are a trucker or just don't want to do your hair consider these tips on how to buy a new hat.
Consider the Fit
When it comes to trucker hats, they are not all alike. There are a few different things they can have to enable a good fit. The flex fit hats have a type of spandex in the material that helps them stretch. There is also elastic in the band that helps fit and stay on your head. This is perfect for people who may be in between sizes. Another great fitting technique is a trucker hat with a sizer in the back. It is a plastic strip that you can size up or down like a belt. This can help you get a good fit. These hats also have a hole in the back. They are super hand if you have a lot of hair and need a hole to put your hair. All these different ways to size a hat makes them easier to fit to your head. Try a Richardson 6 Panel Star Hats if you are looking for a tight-fitting and nice-looking hat.
Consider What its Made From
All hats are made a little differently. There may be a different mix of cotton and spandex. Along with that, some trucker hats have a mesh back. This is great for getting extra air flow for cruising in a hot truck. However, the mesh back hats can let a lot of sun in and sunburn your head if you are bald or light haired. So if you are looking for a hat to protect you from the sun you may want to consider a full back trucker hat. It is just another difference that can make a hat a better fit for you. Richardson 6 Panel Star Hats are made from high quality cotton and spandex. They are perfect if you are needing a hat that repels sweat and water. Their ingredients within their hats are sure to impress you with how long they last and how nice they stay.
Consider What's on it
It is super common for companies to put a logo on a trucker hat. This helps rep their company by their logo just riding around on someone's head. Along with this, some people like certain brands of hats. Just like how some people like different brands of shirts or pants, you have to find the right brand of hat that you enjoy. Richardson 6 Panel Star Hats are super comfortable but also come with many different logos. You could even buy the super comfortable hats and have your own logo put on it. They are high quality and long lasting hats.
Conclusion
At the end of the day, not all trucker hats are alike. It is important to find one that fits comfortably on your head and that you enjoy wearing. Try a flex fit if you are needing a tighter fit. If you have a lot of hair that you would like to be able to put out the back of your hat then consider a button back hat. These are all things to think about when you are picking your next trucker hat.
Absolutely essential Dresses for summertime
Absolutely essential Dresses for summertime
Stuffing your closet with different dress styles is actually a good step this summer, due to the fact they could be worn in a great number of different ways. There are actually countless multipurpose dress variations to pick from which are suited for use at all times of the day. A dress is a perfect garment to get decked out in, or alternatively throw on as an informal outfit. Dresses offer comfort and glamour, a real heroine of one's wardrobe. Here are some fashionable dress styles that absolutely merit a spot in your closet ready for when it comes to summer.
The Maxi Dress
Maxi Dresses are a lot of enjoyment to wear and extremely functional. All through the breeziness of a long scorching summers day you'll enjoy the flattering, womanly feeling this dress delivers. Maxi dresses are superb for keeping fresh without revealing all. Perfect for just about all sizes and shapes, a summer Maxi is perfect with a wedge heel shoe or roman sandals, and an additional belt highlight to emphasise the curve around the hips. Go to AX Paris for Maxi Dresses to suit your style and budget.
Midi
For taller ladies, a midi dress can be highly flattering. A very fashionable way to wear this style of dress at this point in time is in the form of a single colour block worn with a flat and relaxed shoe together with a summer season purse that 'impresses'.
The Party Dress
This may not be very first choice for heading to the seaside, however for any summer evening, a party dress is really a must. A stylish party dress is actually the answer to your steamy summer night requirements and will certainly turn heads anywhere you go, whether it is a short or a long style. Simple to add some finishing touches, slide on your best heels or flatter shoes, and a designer purse and some statement jewelry and you're geared up for an outstanding night out.
The Shift Dress
Bosomy, rounded women will like the way they look in a shift. Shift dresses may be found in a wide range of materials, tones and designs, making it easy to uncover delicate, bright styles that you fall in love with this summertime. Another style of dress that easily transfers from informal daywear to chic eveningwear simply with the addition of heels.
The Long Shirt Style
Stylish girls will be drawn towards the shirt style dress, the remarkably popular, fashionable dress of the time. Shirt style dresses are available in the market in a large selection of materials, styles, and colors, making them really flexible for all types of events, and the ideal item to accessorize with. They offer a laid-back appearance and look impeccable when paired with heels, flatter shoes or virtually any kind of footwear.