Top 18 Blouse Designs for Wedding Silk Sarees 2018 [ Latest Trends & Tips ]
Saree blouse plays an important in the saree's overall appeal.
No matter how beautiful a saree is, an imperfect blouse can ruin the look of your saree. The beauty of the saree accentuates only when it is matched with an appropriate blouse in a perfect fit.
It is important to select suitable Blouse Designs for Wedding Silk Sarees and patterns that complement the saree as well as your personality.
You can experiment with various trendy blouse neck patterns and sleeve designs for your blouse. Designer sarees and custom made designer saree blouses from boutiques are the hottest trends right now.
You can customize your wedding saree blouse with Maggam work, Kundan work, zardosi work, stonework, thread embroidery etc. to create the rich look.
If you want your saree to grab the attention and keep the blouse simple and elegant you can try simple and stylish blouse back neck designs and elbow length sleeves with big borders etc.
Let's see some popular and trendy blouse designs for traditional wedding silk sarees.
18 Blouse Designs for Wedding Silk Sarees
1. Embellished Elbow Length Sleeves Blouse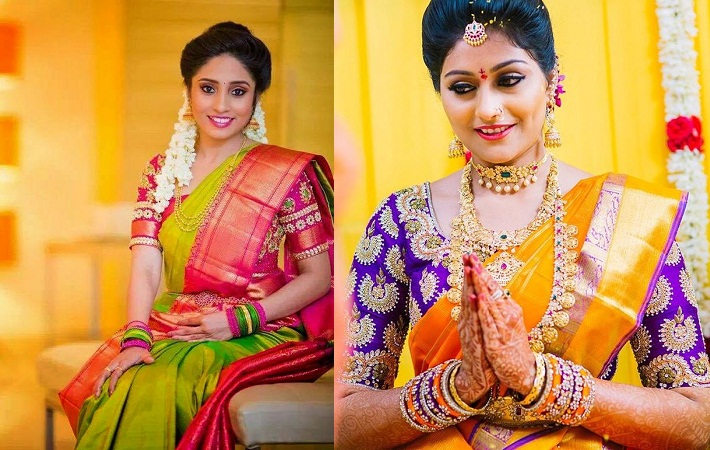 Elbow length sleeves blouses with embellished sleeves add the rich look to the traditional outfit and have been in great demand, in recent times. The most popular elbow length sleeves designer blouse for wedding sarees is the one Kajal Aggarwal is wearing in the below picture known as Vanki design blouse, designed by Kavitha Gutta of "Golden Threads" Boutique, Hyderabad.
2. Red Sabyasachi Blouse With Heavy Embellishment And Sequin Work
This is a flawless Sabyasachi creation, so you can be sure that it will be exquisite. The gorgeous interplay of three highly appealing colors in red, soft pink and light gold work exceedingly well and the trendy neck design is very stylish and contemporary. The detailing, as with most Sabyasachi Indian blouse designs, is on point and the hand embroidery really puts the icing on the cake for this creation.
It is the perfect blouse for party wear and will work extremely well with a plain chiffon saree.
3. Plain Elbow Length Sleeves Blouse
As the name suggests the sleeves of these blouses are covered till the elbow. Simple plain elbow length sleeves silk blouse with the big border for sleeves are in trend now and they give an elegant look for your wedding saree.
4. Classic Puff Sleeves Blouse
Puff sleeves blouse designs have been around a long time. Wearing a puff sleeves blouse with traditional kanjeevaram saree gives a feminine look. They look great on young people. Puff sleeves blouses can be of several types. Here are some chic and stylish puff sleeves blouse designs for pattu sarees.
5. Indian Blouse Designs – The Colorful Minimal Embroidery Blouse
This gorgeous blouse features a whole assortment of colors ranging from pale yellow all the way to light green, with an assortment of reds, pinks and blues thrown into the mix as well. The overall result? A gorgeous blouse that's excellent for a fun time out in the town.
The deep back design of the blouse makes a big style statement and the use of various bright and attractive colors means that the blouse is perfectly embellished even without heavy mirror or zari work.
6. Kundan Work Blouse
Kundan work blouses give rich look to the outfit.
7. Cut Work Blouse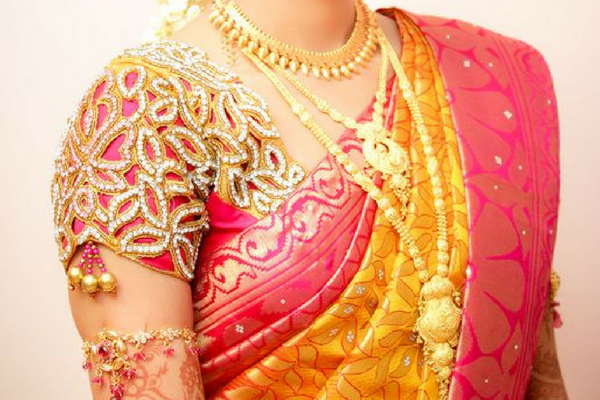 Some stunning cutwork embroidered blouse designs for bridal sarees.
8. Maggam and Stone Work Blouse Designs
Beautiful maggam and stonework blouses look rich and festive. They are perfect to be worn at weddings!
9. Net Blouse Designs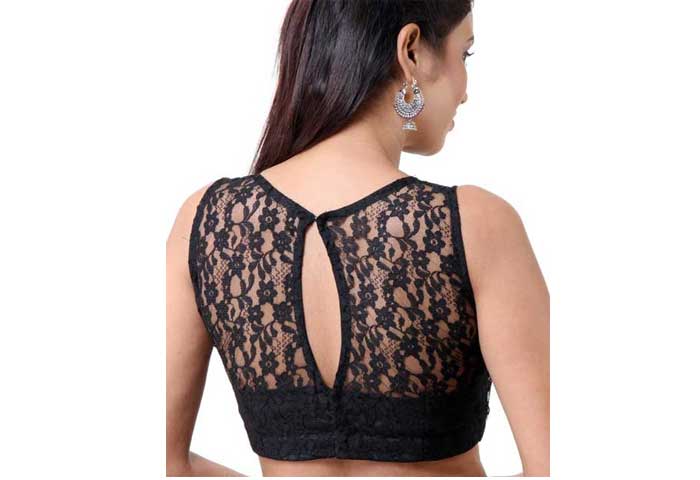 Net blouse designs are most popular nowadays.They look fashionable and sensuous. Net fabric can be incorporated into the blouse in different ways like sleeves, neckline or back. These Net blouse designs add a modern touch to your traditional silk saree.
10. Sequinned Pink Embroidered Blouse
This uniquely stylish blouse design features in an attractive and youthful pink, which girls will find perfect for everyday wear in the days of summer and even on winter nights. The blouse is embellished with sequinned embroidery but it has been done in a non-symmetric manner that really makes the blouse stand out from the rest and makes it a very stylish and trendy option for regular wear.
11. Violet brocade traditional celebrity blouse design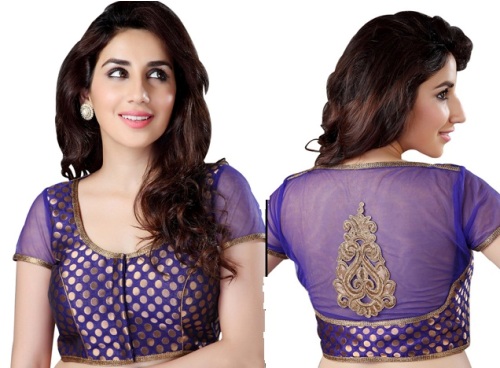 We're bowled by how Parineeti has styled this traditional Bengali look for one of her movies promotional event. Look at the flamboyance displayed through her sheer brocade violet and gold luxe thread work blouse contrasting with her ultra-glam fushcia pink and gold benarsi silk saree. You can get your hands on this exotic piece of blouse that will easily match and coordinate with any solid colored saree.
12. High Neck Blouse
High neck blouses add a royal look to ethnic attire. They give a nice and fresh look when compared to regular traditional blouse patterns. Designers are creating these high neck saree blouses in different fabric combinations with intricate embellishments. When you wear high neck blouse skip wearing necklaces. In this case, you can choose heavy earrings like the chandelier, big jhumkas or chandbalis.
13. Full Sleeve Blouse With Bold Patterns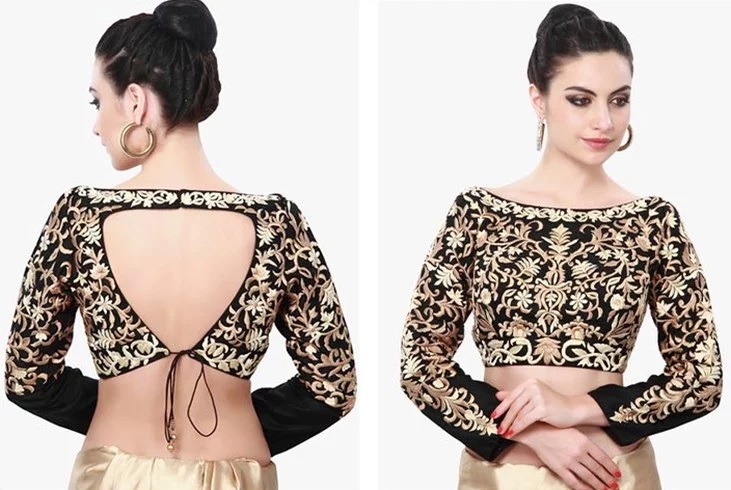 This gorgeous blouse works exceedingly well if you pair it with a soft and light pink saree. As far as Indian blouse designs go, this one is a newer, more avant-garde version, and is quite popular on the red carpet too. The long sleeves featuring the bold pattern work very well for this blouse.
Other combinations that will work very well for such a bold blouse would be pairing it with a red saree with embellished borders or a mustard coloured chiffon saree.
14. Net Saree Blouse Designs for that Royal Touch
Sophesticated net blouse design with a cut at the back that one simply cannot ignore. The patchwork on the right side adds a touch of elegance. Indeed, an elegant blouse for a night-time party.
15. Round Cut Out Back Neck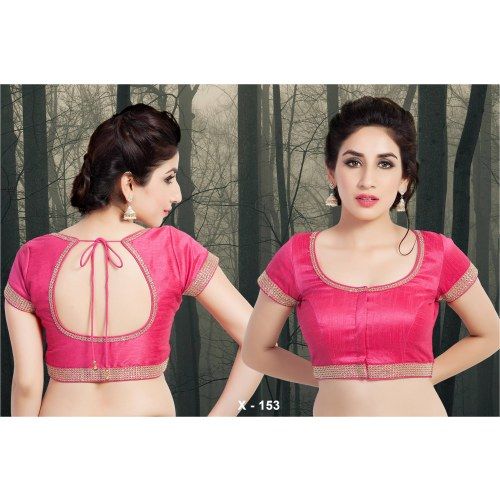 These blouse designs have round cut out detail on the back. An intricate maggam work, stone work, kundan work or zardosi work outlining the cut out back gives the blouse a stunning look. A beautiful tie back tassel on the back adds extra galmour to the blouse.
16. Blouse with Artistic Sleeves
Sleeve length and style make a dramatic impact on the look of a blouse. It's an important design element and an essential part of making the bride feel comfortable and confident on her special day. A simple embellished blouse with attractive sleeves like the ones shown below (designed by Bhargavi Kunam) can add glamour to your traditional outfit.
17. Olive embroidered quarter sleeve blouse design
Let the sparks of style shine bright as you walk down in this bottle green olive colored embroidered quarter sleeve blouse deign. With patterns and craft that epitomize the rich cultural heritage of India, this blouse is a sheer representation of the exotic appealing past. This is a visual treat for all those who are fond of fashion and follow it quite closely. So, if you're one of them, don't lose your chance to weave the tale of romance and nothing better than the intricate bird design.
18. Back Neck Pattern
Blouse back neck pattern plays an important role in the over all look of the blouse. There are several blouse back neck styles like round back neck, sweetheart neck blouse, square neck blouse, V neck blouse, boat neck blouse, U neck blouse etc. Choose the style best suited for your body type. Here are some interesting back neck blouse patterns for silk sarees.
Latest Trends – Wedding Silk Sarees' Blouse
Nowadays Net Blouses and Velvet Blouses are in the current fashion. Coller Neck Blouse and Full Sleeves are getting in trend in the Wedding Collection of Blouse Designs.
Young Girls mostly prefer to wear backless blouses therefore for them Net Back Blouse Designs are in our collection to give them more pretty looks.
Tips For Blouse Design
If your are preparing heavy embroidery blouse design, then keep simple shiffon saree with that or also can take simple printed saree.
As blouse is printed, then keep saree plain or simple border designed
Also make some hairstyle matching to the saree pattern to look stylish and different
And also wear heels with saree and some accessories with the saree to get some traditional look
Anita Dongre Designer Deep Back Pink Blouse With Zari Work
This bright pink blouse by Anita Dongre takes the forefront and relegates the entire ensemble to the background.
Its shocking pink colour makes it really stand out, and its gorgeous detailing on the peripheries will draw both envious looks and nods of agreement.
Either way, it's a great looking blouse and a great option for party wear, especially when paired with a beautiful plain light colored saree as above.
The combination of a plain saree and delicately embroidered blouse makes this a great evening wear option, even for formal occasions.
PRO TIPS
Keep these tips in mind before opting for a deep back blouse. Time to bring sexy back!
Clean your back and wax it so that you can go ahead and flaunt it with confidence.
Choose your bra perfectly so that it does not show up when you put on your blouse.
Fasten all of the strings, hooks and clasps perfectly on the back of your blouse.
Choose your hairstyle to match your blouse. For example, if you're showing off your back, wear your hair up.
For an enhanced effect, you could use mehndi or other temporary tattoos to go along with the blouse and add more style to your look.
Source : http://www.sadibyah.com/top-10-blouse-designs-wedding-silk-sarees/
Why A VVS Diamond Might Be Right for You
Shopping for diamonds can be hard. With a stone so valuable and often gifted as a meaningful present, you'll want to find the perfect one. When faced with so many options, it can be hard to know which type to choose, but we think that a VVS Diamond might be the perfect choice for you.
What is a VVS Diamond?
VVS is a clarity grade for diamonds and you'll be able to find grades as VVS1 and VVS2. Clarity grades are assigned to diamonds by laboratories based on the imperfections that can be found within the gem. Depending on whether there are a certain number of imperfections, the colour and where these inclusions are, they can be more noticeable, and therefore earn the diamond a lower grade.
The highest clarity grades are Flawless (F) and Internally Flawless (IF). These are then followed by Very Very Slightly Included – VVS – and this grade has two different levels of VVS1 and VVS2. The final grades are Very Slightly Included, Slightly Included and Included.
Almost Flawless
Since they are nearly flawless, the imperfections on VVS diamonds are hardly visible. In fact, there are so hard to see, they can only be seen under high magnification. In some cases, the imperfections can't be seen by a jeweller's magnifier. This can mean that you'll be able to get yourself what looks like a flawless gem but with a slightly lower price tag.
Variety of Choice
When buying a round brilliant white diamond, imperfections are hard to identify anyway, so it is recommended that you go for a VS or SI diamond. However, when looking for a larger diamond, imperfections will be seen more clearly so you'll want to find a higher clarity grade.
In addition to this, finding a fancy shape, such as a heart or princess cut, more of the diamonds available will be VVS. The same goes for locating a coloured diamond. This is because the colour and shape of a diamond will determine how easily identifiable imperfections are.
Pricing
This could be considered a pro or a con depending on what angle you're coming at this from, but VVS diamonds could be cheaper than opting for flawless diamonds and they won't be any less beautiful. But, as the clarity grade improves, the price will increase and choosing a lower clarity gem won't necessarily see much difference.
Investment
If you're seeing your diamond purchase as an investment, a VVS diamond is a rarer find than lower clarity grades. However, in general, diamond resale prices won't necessarily increase. Especially with white diamonds, you'll find it's hard to sell your gem for much higher than the price you initially paid for it. If you're looking to purchase a diamond as an investment, it's recommended that you opt for a fancy color instead.
Overall, VVS diamonds have fantastic appeal. It's the perfect option for those wanting something flawless to the eye, but with a lower price tag. Not only this, but they can come in a wide variety of cuts and finishes that will match your personal preferences and desires.
Why Do We Propose With Engagement Rings?
Proposing with an engagement ring just seems like a fact of life – the sky is blue, the grass is green and when you want to marry someone you buy a big beautiful ring and propose. But this hasn't always been an accepted tradition and derives from symbolic gestures of eternity and ownership in different ancient cultures.
So, why do we offer a ring to the person we want to spend the rest of our lives with? When did the tradition begin and what does it mean? How has it become such a widespread and accepted tradition?
It all dates back to Ancient Egypt. The Ancient Egyptians saw circles as a symbol of eternity, so newly wedded couples would create rings out of braided reeds to exchange as a token of commitment. These rings were worn on the left-hand ring finger, due to the fact this finger contains a vein that runs directly to the heart (named the Vena Amoris at a later date) – the heart was also a symbol of love even in Ancient Egypt. This is the oldest documented use of rings being exchanged as an engagement ritual.
In 2nd Century B.C., the Ancient Romans are believed to have started the use of betrothal rings as an offering to the bride instead of money or other valuables. The symbolism involved here is distinctly less romantic than in Ancient Egypt or in modern times – this was about signalling the man's ownership of the woman. The woman would wear a gold ring during the wedding ceremony and while attending other significant events. Then, while at home, the woman would wear an iron ring as a reminder of her binding legal agreement i.e. that she has agreed to be owned by her husband.
So far we have seen modest woven rings to symbolise eternity together, gold rings to signal ownership in public facing ceremonies and iron rings to remind wives of their legal agreement. When did diamonds and other glitz come into the equation? Diamonds didn't come into play until many centuries later, as late as 1477, when the Archduke Maximilian of Austria proposed to Mary of Burgundy with a ring that had flat pieces of diamonds spelling out the letter "M". After this, the rest of the European nobility had to follow suit and began adding more extravagant jewels as a way to show their prowess. There are also documented uses of romantic rings in the Middle Ages called "posey rings." These rings had romantic poems engraved on them and would be exchanged between couples.
The use of diamonds became widespread after 1880, following the DeBeers Mining Company's exploits in South Africa. The company adopted the slogan "A diamond is forever", and told men they should spend two months wages on a ring. Somehow, this advertising venture became embedded into our culture, and by the 1940s it was widely accepted in Western Culture that you had to propose with a diamond. Nowadays we are flooded with wonderful engagement ring options, such as tiffany engagement rings, and have more choice than ever on how we propose.