Any sports fan has watched the replays. They may be gruesome, but human nature is to watch them over and over again. No, it is not the lowlights of professional basketball or soccer teams, but rather it is the replays of injuries that occur to star athletes. Most recently, Atlanta Falcon's quarterback, Michael Vick, fractured his right leg in a pre-season football game. Earlier in the summer, Cincinnati Reds centerfielder, Ken Griffey Jr., dislocated his shoulder in a baseball game. Both injuries were repeatedly shown on news broadcasts, as well as many other times on television.
Fractures and dislocations are two of the more serious types of injuries that can occur during an athletic event. Early recognition and prompt medical treatment are extremely important with these injuries in both young, up-and-coming athletes, as well as professional athletes.
Dislocations are forceful disruptions of the bones that make up a joint. In Griffey's case, his shoulder separated from the shoulder socket when he dove for a fly ball and the impact from the ground caused the displacement.
A fracture is when the bone has a complete, or incomplete, break. Vick's fractured right fibula was a clean fracture, which aids in the healing process. His injury was caused by a tackle when he was running to pick up extra yardage on a broken pass play.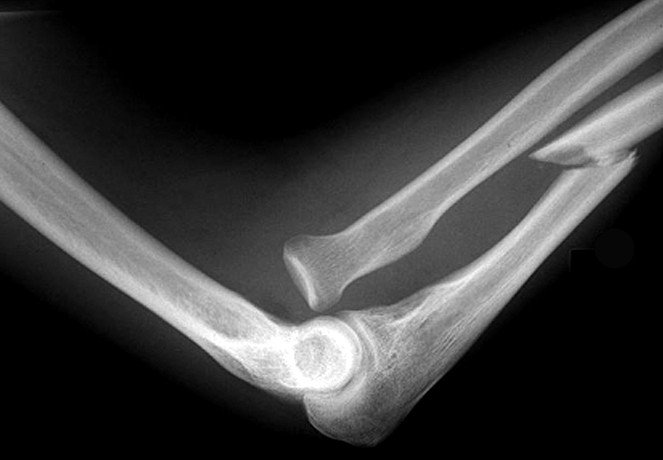 Signs and symptoms of fractures and dislocations are similar, including obvious deformity or abnormality of the affected area, increased point tenderness directly over the affected bone, swelling (possibly significant), and possible numbness.
If a fracture or dislocation is suspected:
Splint the injured body part in a comfortable position
Apply elastic wrap to support splint and apply pressure
Use ice over area to control pain and swelling
Transport the athlete for further evaluation by a physician
Do not attempt to reduce or relocate a dislocated joint yourself!  This should only be done by a physician.
Professional athletes are fortunate enough to have athletic trainers and team physicians nearby if they sustain an injury. Most young athletes do not have a team physician at their event to help assess and diagnose the injury immediately. Therefore, parents must determine the best course of action for their child.
In case of a serious or life-threatening medical emergency, always call 911. If it is not a life-threatening emergency, then the first call should always be to your pediatrician or family doctor to determine what is best for the child. If the physician has office hours, then they may ask you to bring your child in immediately. If not, they may direct you to an urgent care center or emergency room.
Children's Close To HomeSM  Health Care Centers which feature Urgent Care services offer treatment for illnesses and injuries that need immediate attention but do not need to be handled by a hospital emergency department. Treatment for the following conditions is provided:
Possible broken bones/simple fractures (facility will perform x-rays and initial treatment)
Minor cuts that may need stitches
Minor/small burns
Sprains and strains
Vomiting and diarrhea
Asthma (mild or moderate wheezing)
Rashes
Mild allergic reactions
Fever
Refer to the emergency department for treatment of the following conditions:
Obvious broken bone in the leg or arm
Major trauma/injuries
Injuries following a motor vehicle crash, being struck by a motor vehicle, or a fall from a height
Serious head injury (with loss of consciousness, changes in normal behavior, multiple episodes of vomiting)
Burns with blisters or white areas, or large burns
Severe difficulty breathing/respiratory distress
Fever in infants 8 weeks of age or less
Severe pain
Seizures
Again, fractures and dislocations are two of the more serious types of injuries that can occur during an athletic event. They can happen to the strongest and most conditioned athletes, as well as those athletes learning the fundamentals for the first time. Receiving prompt and proper treatment is key to returning to play quickly and not breaking stride.
Youth Gambling – The Addiction danger
Problem gambling is referred to as a gambling addiction and referred to as a gambling disorder. Right from children to adults it affects people of all ages. If a person is introduced to the gambling in early ears as he grows will become a problem gambler. So this has to be considered as a serious issue, especially in teenagers this has to be halted early or else it will affect them the rest of their lives. Brains are not completely matured in early twenty's. Children and teenagers' brains are not fully prepared to make healthy decisions. And they will not think of the consequence in taking any decision.
It's not the mistake of the children and it starts very innocently. Family members sit around the table and play an online casino one fine weekend with a grand dinner. The children will observe every moment of their parents, their emotions, excitements, Children when they are exposed to play games in mobile father or mothers, initially it starts with fun of picking up the coins, gradually the children will get frustrated if they couldn't have enough coins to play further. This over a period could be a shift from fun play to money play.
This is just a start point where the children are exposed to gambling at very early age. They start observing the actions, excitement of their friends and families and they will try to replicate those. They start viewing the advertisements and start on a very small video gaming activities. Also during schools children get very much influenced by their friends. The friends form groups and influence their peers to participate in the betting .They start seeing the advertisements in TV's ,posters, bill boards and even online and get attracted to the colourful messaging's. These days the children are very much better in mobile using than parents.
They are getting exposed to the new online games in phones either playing for fun, fake money or real money. These online games build competition among their friends and unknown people and they continue playing the game till they cross levels or win. The moment the online games are easily accessible for children they start playing irrespective of the location weather it can be at home or even at school. Once the children get into high school they start playing without the notice of their teachers and parents. College students are independent and this is the time where they are surrounded by more new opportunities exposed to new activities and also take part in risky activities. College students either take part in gambling activities either for fun, name or money. As they never have access to money from their parents, they start doing the problem activities to earn money out of their own. It is always a good idea to play situs slot online game after knowing the basics and the tricks to win.
Finally, there has to be more efforts to be put up by the concerned of the children to get rid of the underage gambling addiction. One to one counselling by experienced trainers to be given to the problem gamblers that their life could be repaired at a very early stage. Technology should be used for the benefit of elf and others lives. It should be used in the right way. Parents also have to take the responsibility to monitor their kid in each stage of their life, at the same time giving freedom to them in their wishes and dreams.
Sports Tips For Professional gamblers
Sports Tips is an online sports business dedicated solely to the promotion of basketball (NBBA) for both NBA teams and other professional sports teams throughout the year offering free betting tips and picks to their subscribers all throughout the year for all matches regardless of whether they are being played or not. They also predict all the major NBA matches, reporting on all the major events including player injuries, transfer news, etc. Their tips are exclusive and you can take advantage of them to earn some money. You can start by becoming a newsletter subscriber. You will receive newsletters on a weekly basis with valuable information that you can use.
Most sports tips are fairly expensive and if you want to take advantage of them then you must have some extra bucks to throw at the sports tips. This is the common misconception that betting on sports tips makes you a millionaire overnight. However, this is not true because sports tips are like any other tips. If you follow them to the book then you will be able to make money, but in most cases to make money betting on sports tips requires a good knowledge of the game, a bit of skill and luck on your side.
In fact, sports bettors need to know a bit about sports, about individual players, teams, their playing styles, strengths and weaknesses, and other relevant factors in order to make good bets. In most cases, sports bettors rely on a single sports betting tipster to formulate their betting strategy. They base their entire choice of bets on their assessment of a bettors' betting strategy. Betting strategy depends on many factors such as type of sports, number of bet, size of bet, betting amount, betting frequency, betting bankroll, bettors' reputation in the sports betting world, etc.
Now that you have sports betting strategy, you need to follow it consistently in order to maximize your winnings. Most bettors will simply follow the advice of their tipsters even if they do not have a good understanding of the sports betting world. The mistake that bettors commit is that they let their emotions affect their choice of bets. For example, if a tipster says that a certain team has a very strong chance to win a game, bettors will pick the team that looks better. They will place a larger bet to complement the tipster's strategy.
Bets with a small bankroll are often more risky because bettors have less cash at stake. Bettors with a small bankroll tend to be more emotional. Their main motivation is to increase their bankroll, even if it means losing the chance to win big. They do not really care if they lose or not. They will just do anything to increase their bankroll.
Your betting strategy sports tips should allow you to identify good teams to bet on and bad teams to avoid. It should also be flexible enough to accommodate changes in your betting options. You should look for sports betting options available online where you can place lower bets 먹튀폴리스. By doing so, you reduce the risk of dealing with bookmakers who sometimes fail to meet their commitments. You should also make sure that the tips make use of several types of betting systems.