Any sports fan has watched the replays. They may be gruesome, but human nature is to watch them over and over again. No, it is not the lowlights of professional basketball or soccer teams, but rather it is the replays of injuries that occur to star athletes. Most recently, Atlanta Falcon's quarterback, Michael Vick, fractured his right leg in a pre-season football game. Earlier in the summer, Cincinnati Reds centerfielder, Ken Griffey Jr., dislocated his shoulder in a baseball game. Both injuries were repeatedly shown on news broadcasts, as well as many other times on television.
Fractures and dislocations are two of the more serious types of injuries that can occur during an athletic event. Early recognition and prompt medical treatment are extremely important with these injuries in both young, up-and-coming athletes, as well as professional athletes.
Dislocations are forceful disruptions of the bones that make up a joint. In Griffey's case, his shoulder separated from the shoulder socket when he dove for a fly ball and the impact from the ground caused the displacement.
A fracture is when the bone has a complete, or incomplete, break. Vick's fractured right fibula was a clean fracture, which aids in the healing process. His injury was caused by a tackle when he was running to pick up extra yardage on a broken pass play.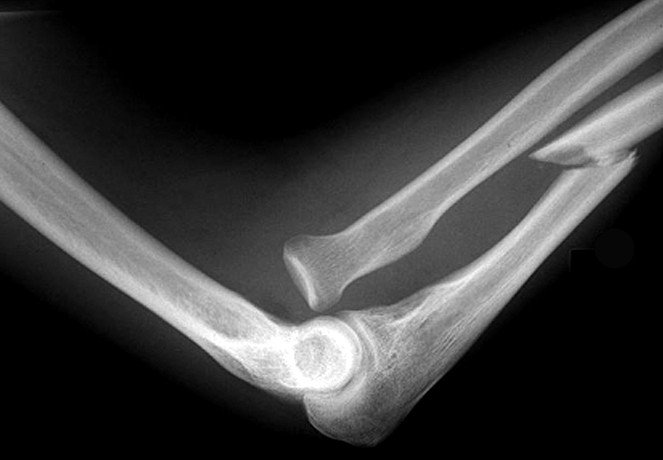 Signs and symptoms of fractures and dislocations are similar, including obvious deformity or abnormality of the affected area, increased point tenderness directly over the affected bone, swelling (possibly significant), and possible numbness.
If a fracture or dislocation is suspected:
Splint the injured body part in a comfortable position
Apply elastic wrap to support splint and apply pressure
Use ice over area to control pain and swelling
Transport the athlete for further evaluation by a physician
Do not attempt to reduce or relocate a dislocated joint yourself!  This should only be done by a physician.
Professional athletes are fortunate enough to have athletic trainers and team physicians nearby if they sustain an injury. Most young athletes do not have a team physician at their event to help assess and diagnose the injury immediately. Therefore, parents must determine the best course of action for their child.
In case of a serious or life-threatening medical emergency, always call 911. If it is not a life-threatening emergency, then the first call should always be to your pediatrician or family doctor to determine what is best for the child. If the physician has office hours, then they may ask you to bring your child in immediately. If not, they may direct you to an urgent care center or emergency room.
Children's Close To HomeSM  Health Care Centers which feature Urgent Care services offer treatment for illnesses and injuries that need immediate attention but do not need to be handled by a hospital emergency department. Treatment for the following conditions is provided:
Possible broken bones/simple fractures (facility will perform x-rays and initial treatment)
Minor cuts that may need stitches
Minor/small burns
Sprains and strains
Vomiting and diarrhea
Asthma (mild or moderate wheezing)
Rashes
Mild allergic reactions
Fever
Refer to the emergency department for treatment of the following conditions:
Obvious broken bone in the leg or arm
Major trauma/injuries
Injuries following a motor vehicle crash, being struck by a motor vehicle, or a fall from a height
Serious head injury (with loss of consciousness, changes in normal behavior, multiple episodes of vomiting)
Burns with blisters or white areas, or large burns
Severe difficulty breathing/respiratory distress
Fever in infants 8 weeks of age or less
Severe pain
Seizures
Again, fractures and dislocations are two of the more serious types of injuries that can occur during an athletic event. They can happen to the strongest and most conditioned athletes, as well as those athletes learning the fundamentals for the first time. Receiving prompt and proper treatment is key to returning to play quickly and not breaking stride.
Wrestling Forums: The Ultimate Source Of Wrestling Information
Wrestling Forums is a community of wrestling fans, from all over the world, who have come together to discuss their favorite pastime. You can find out everything you need to know about wrestling and the latest happenings in the world of wrestling.
Wrestling Classics Message Board : Get More Information About
Wrestling has been around for centuries. It is a tough sport that contains all aspects of entertainment. It has action, betrayal, drama, pain, happiness, and even family issues.
It is one of those sports that have millions of fans around the world.
People love to watch big buffy men squaring up in the ring. Whenever talking about wrestling, the first thing that comes to mind is WWE (World Wrestling Entertainment.) It is the most successful wrestling show that is ever made. 
It has wrestling classics message board and forums where people discuss their favorite wrestlers; voice their opinion, and more.
Speaking of wrestling, there exists plenty of dedicated wrestling forums online. Wrestling fans can join these forums and discuss wrestling all day. These platforms serve as the ultimate source of wrestling information. Most importantly, it helps form a community of wrestling lovers.
Reasons To Join A Wrestling Forum Online
You don't need a reason to join a wrestling forum. If you are into this sport, you will want to discuss and talk about it with fellow enthusiasts. Online wrestling forums are created so fans can express their thoughts and opinion with wrestling enthusiasts around the world.
Joining an online wrestling forum gives you the chance to participate in conversations with like-minded people. You will come across people who like wrestling as much as you do. This may allow you to fulfill your needs that are not met offline.
This online forum is a hub of information. You are always learning something new about the sport. Different people share different information. This helps you to know the sport better and develop a new perspective on it. Online communities like this are a great source of information.
Online wrestling forums are created so you can share your opinions with other people in the community. You can ask questions, participate in discussions, get feedback, and so much more.
Online communities are just as good as your offline friends. Through these forums, you can meet different people with the same interests as yours. Who knows how many friends you will make? Even if they are based in different countries, it is always good to communicate with new people. The wrestling community is a huge one. So you have plenty of people to meet and communicate with.
The best part of joining an online wrestling forum is that it is free. Most of these forums are free, which means you don't need money to sign up. You get to meet interesting people, chat with them, and share your opinion, all for free.
Online wrestling forums are similar to other forums and message boards. Yes, sometimes things get negative, especially when people start arguing over who's the best wrestler. Otherwise, these forums are great for learning new things about wrestling. If you are yet to join a wrestling forum, you are missing out on all the fun.
Wrestling is a hugely popular sport. Once you start watching it, there's no coming back. So what are you waiting for?
When Even LeBron James's Best Might Not Be Enough
Basketball historians will rightfully tell you that digging his team out of a 3-1 N.B.A. Finals ditch, winning a Game 7 on Golden State's floor and lifting the so-called Cleveland Curse to deliver title glory to a long-suffering city adds up to peak LeBron James.
Two short years later, in the 2018 N.B.A. playoffs, James realistically has to be better now than he was then just to get back to the finals.
That's how deep the hole suddenly is for James and his Cleveland Cavaliers entering Saturday night's Game 3 of the Eastern Conference finals against the relentless Boston Celtics. Dragging this raggedy collection out of a 2-0 deficit to clinch the eighth straight finals appearance of James' career, with no Kyrie Irving at his side to share the burden, would have to rank as the second-shiniest entry on his resume.
Some league observers are bound to contest that view. Drew Gooden, who was a key member of Cleveland's 2006-07 squad that James unexpectedly hauled to the finals in just his fourth pro season, did contest it loudly when he hopped on the phone with me this week, insisting that those Cavaliers were an even longer shot to get to the title round because of their collective lack of experience.
"You can't compare this group to ours," Gooden said. "This group has already won a championship. We were like a deer in headlights."
Good points from Gooden, but I'm not budging. For all it supposedly lacked in terms of know-how, that Cleveland team ranked fifth in the league in defensive efficiency. It muscled past the second-ranked Detroit Pistons in the Eastern Conference finals when LeBron, at age 23, scored the Cavaliers' final 25 points in an unforgettable series-turning classic in Game 5.
The current Cavaliers finished 29th out of 30 teams in defensive efficiency and were outscored by 40 points over the course of seven games in a first-round series against Indiana that the math says they should have never escaped. And they've been shredded twice in Boston by a club that lost Gordon Hayward just 5 minutes and 15 seconds into its season opener and hasn't had Irving in uniform since March 11.
James, as a result, finds himself in an 0-2 deficit in an Eastern Conference playoff series for the first time since (gulp) 2008 — even though he's coming off a 42-point, 10-rebound, 12-assist performance.
The results of Tuesday night's draft lottery, on top of the February trade spree that exiled Isaiah Thomas and Jae Crowder, means Cleveland has replaced Irving with Jordan Clarkson, George Hill, Rodney Hood, Larry Nance Jr., Ante Zizic and the No. 8 overall pick (via Brooklyn) in the N.B.A. draft next month. That fivesome combined to score five points in the Cavaliers' 107-94 defeat in Game 2.
The Other Cavaliers, as they were mockingly dubbed in a recent Saturday Night Live sketch, figure to play better in the next two games at home. But when Boston is 8-0 at home in these playoffs and 37-0 as a franchise after seizing a 2-0 lead in any series, it's becoming a serious strain to imagine James leading Cleveland on a comeback.
Which means it's not too early to start picturing James in another uniform.
James has offered roughly zero hints about his future plans over the past nine months, but a move to a franchise better positioned for championship contention feels even more inevitable now than it did in 2010. That's when the Cavaliers were pounded by the Celtics in the conference semifinals, leading to James's controversial defection to Miami.
James's return to free agency is just 44 days away and — unless his wife and children tell him they can't bear to leave Northern Ohio — what incentive would the native of nearby Akron have to stay with the Cavaliers beyond sentimentality?
Does James have some culpability here? Do the short-term contracts he has insisted on signing since returning to the Cavaliers in the summer of 2014 add to the immense win-now pressure and seemingly ceaseless drama that have smothered everyone involved with this franchise for four consecutive seasons? Sure.
Yet it's most certainly not James's fault that the team's owner, Dan Gilbert, had a decaying relationship with the highly rated general manager David Griffin, which prompted an unforeseen parting in June 2017 — when Griffin was in the midst of trying to execute trades for the likes of Paul George and Jimmy Butler. Nor did James advise the Cavaliers to cave into Irving's trade wishes last August and send him to Cleveland's foremost rival in the conference when Irving still had two seasons left on his contract.
James was convinced that Cleveland should at least bring Irving to training camp to try to work out a truce and then trade him later if those efforts failed. Everyone is obviously smarter in hindsight, but regret in Cleveland over the refusal to go that route is inevitable after the failures of Thomas and Crowder to fit in, as well as the false hope spawned by the February trade spree.
It must be noted that James was initially fooled, too. He was as giddy as anyone after the Cavaliers' first game following the acquisitions of Clarkson, Hill, Hood and Nance Jr. He reacted to Cleveland's 22-point blitz of the Celtics in Boston by excitedly telling his teammate J.R. Smith: "We have a squad now."
According to Smith's version, which he relayed through the ESPN reporter Dave McMenamin at the time, James threw in an expletive for emphasis, so convinced he was that the infusion of athleticism and newness was just what Cleveland needed.
What Griffin's successor Koby Altman was really trading for, of course, was a fully engaged LeBron. And, apart from his Game 1 clunker against the Celtics, James has never been better in the postseason — individually.
The rest, though, was a mirage.
LeBron's rampages were barely sufficient against the Pacers and appear to be in vain against the Celtics when Al Horford is playing the most forceful two-way ball of his career. And when the irrationally confident Marcus Morris has helped limit James to 11 points on 4-for-14 shooting in their 56 head-to-head minutes. And when Boston's savant of a coach, Brad Stevens, is getting so much out of the relative neophytes Jaylen Brown and Jayson Tatum while James is plagued with such intermittent help.
My personal rule when it comes to playoff prognostication is simple: You don't pick against LeBron James when he's facing a fellow East resident. Even when he's halfway to elimination.
But I can't muster the gumption to claim that James is about to lead the broken Cavaliers to four wins in next five games. Not even after three full off days to regroup and refuel.
Maybe he's faced more dire predicaments, but never before with a cast that's doing so little supporting.