Top 18 Blouse Designs for Wedding Silk Sarees 2018 [ Latest Trends & Tips ]
Saree blouse plays an important in the saree's overall appeal.
No matter how beautiful a saree is, an imperfect blouse can ruin the look of your saree. The beauty of the saree accentuates only when it is matched with an appropriate blouse in a perfect fit.
It is important to select suitable Blouse Designs for Wedding Silk Sarees and patterns that complement the saree as well as your personality.
You can experiment with various trendy blouse neck patterns and sleeve designs for your blouse. Designer sarees and custom made designer saree blouses from boutiques are the hottest trends right now.
You can customize your wedding saree blouse with Maggam work, Kundan work, zardosi work, stonework, thread embroidery etc. to create the rich look.
If you want your saree to grab the attention and keep the blouse simple and elegant you can try simple and stylish blouse back neck designs and elbow length sleeves with big borders etc.
Let's see some popular and trendy blouse designs for traditional wedding silk sarees.
18 Blouse Designs for Wedding Silk Sarees
1. Embellished Elbow Length Sleeves Blouse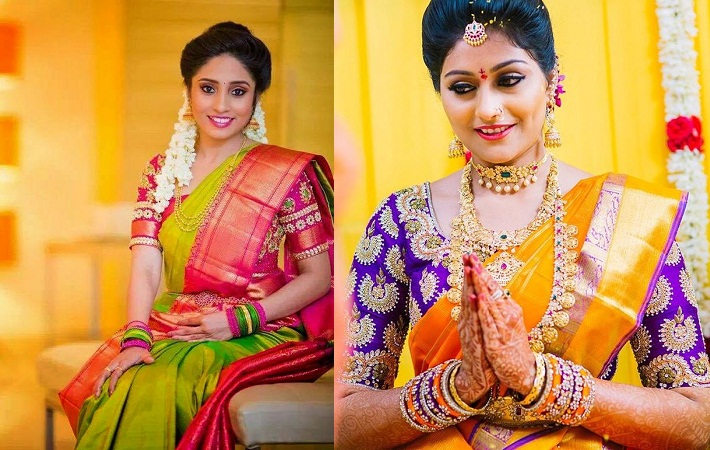 Elbow length sleeves blouses with embellished sleeves add the rich look to the traditional outfit and have been in great demand, in recent times. The most popular elbow length sleeves designer blouse for wedding sarees is the one Kajal Aggarwal is wearing in the below picture known as Vanki design blouse, designed by Kavitha Gutta of "Golden Threads" Boutique, Hyderabad.
2. Red Sabyasachi Blouse With Heavy Embellishment And Sequin Work
This is a flawless Sabyasachi creation, so you can be sure that it will be exquisite. The gorgeous interplay of three highly appealing colors in red, soft pink and light gold work exceedingly well and the trendy neck design is very stylish and contemporary. The detailing, as with most Sabyasachi Indian blouse designs, is on point and the hand embroidery really puts the icing on the cake for this creation.
It is the perfect blouse for party wear and will work extremely well with a plain chiffon saree.
3. Plain Elbow Length Sleeves Blouse
As the name suggests the sleeves of these blouses are covered till the elbow. Simple plain elbow length sleeves silk blouse with the big border for sleeves are in trend now and they give an elegant look for your wedding saree.
4. Classic Puff Sleeves Blouse
Puff sleeves blouse designs have been around a long time. Wearing a puff sleeves blouse with traditional kanjeevaram saree gives a feminine look. They look great on young people. Puff sleeves blouses can be of several types. Here are some chic and stylish puff sleeves blouse designs for pattu sarees.
5. Indian Blouse Designs – The Colorful Minimal Embroidery Blouse
This gorgeous blouse features a whole assortment of colors ranging from pale yellow all the way to light green, with an assortment of reds, pinks and blues thrown into the mix as well. The overall result? A gorgeous blouse that's excellent for a fun time out in the town.
The deep back design of the blouse makes a big style statement and the use of various bright and attractive colors means that the blouse is perfectly embellished even without heavy mirror or zari work.
6. Kundan Work Blouse
Kundan work blouses give rich look to the outfit.
7. Cut Work Blouse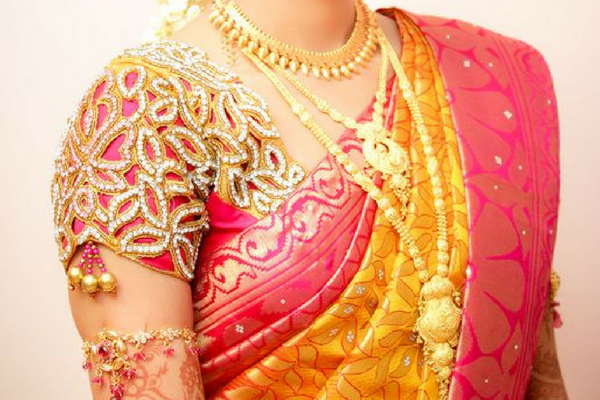 Some stunning cutwork embroidered blouse designs for bridal sarees.
8. Maggam and Stone Work Blouse Designs
Beautiful maggam and stonework blouses look rich and festive. They are perfect to be worn at weddings!
9. Net Blouse Designs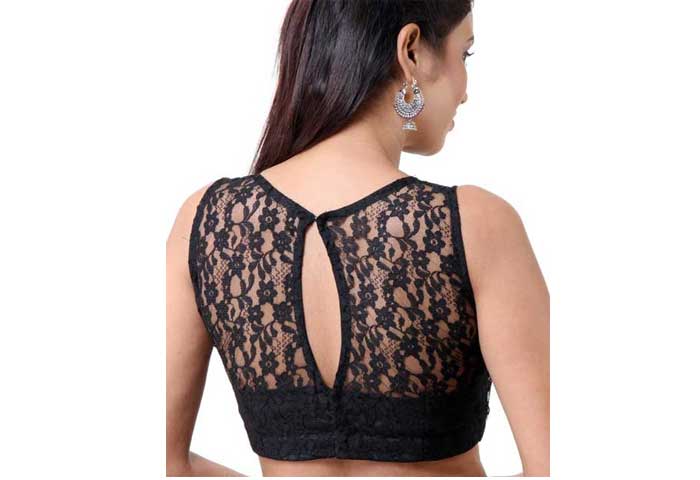 Net blouse designs are most popular nowadays.They look fashionable and sensuous. Net fabric can be incorporated into the blouse in different ways like sleeves, neckline or back. These Net blouse designs add a modern touch to your traditional silk saree.
10. Sequinned Pink Embroidered Blouse
This uniquely stylish blouse design features in an attractive and youthful pink, which girls will find perfect for everyday wear in the days of summer and even on winter nights. The blouse is embellished with sequinned embroidery but it has been done in a non-symmetric manner that really makes the blouse stand out from the rest and makes it a very stylish and trendy option for regular wear.
11. Violet brocade traditional celebrity blouse design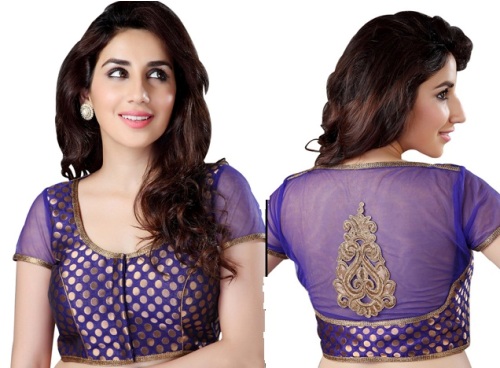 We're bowled by how Parineeti has styled this traditional Bengali look for one of her movies promotional event. Look at the flamboyance displayed through her sheer brocade violet and gold luxe thread work blouse contrasting with her ultra-glam fushcia pink and gold benarsi silk saree. You can get your hands on this exotic piece of blouse that will easily match and coordinate with any solid colored saree.
12. High Neck Blouse
High neck blouses add a royal look to ethnic attire. They give a nice and fresh look when compared to regular traditional blouse patterns. Designers are creating these high neck saree blouses in different fabric combinations with intricate embellishments. When you wear high neck blouse skip wearing necklaces. In this case, you can choose heavy earrings like the chandelier, big jhumkas or chandbalis.
13. Full Sleeve Blouse With Bold Patterns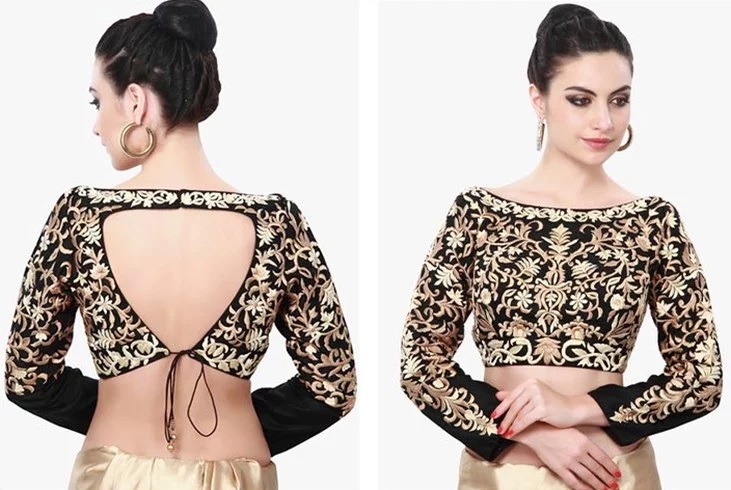 This gorgeous blouse works exceedingly well if you pair it with a soft and light pink saree. As far as Indian blouse designs go, this one is a newer, more avant-garde version, and is quite popular on the red carpet too. The long sleeves featuring the bold pattern work very well for this blouse.
Other combinations that will work very well for such a bold blouse would be pairing it with a red saree with embellished borders or a mustard coloured chiffon saree.
14. Net Saree Blouse Designs for that Royal Touch
Sophesticated net blouse design with a cut at the back that one simply cannot ignore. The patchwork on the right side adds a touch of elegance. Indeed, an elegant blouse for a night-time party.
15. Round Cut Out Back Neck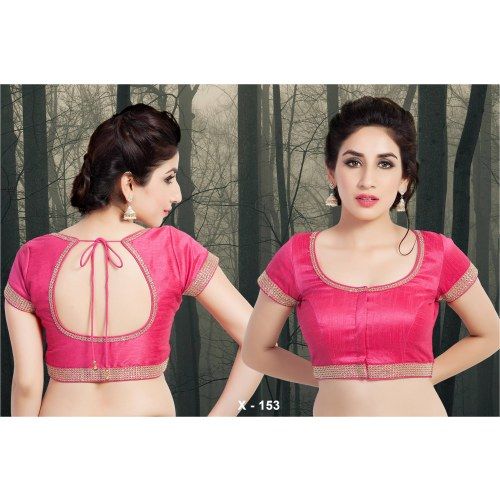 These blouse designs have round cut out detail on the back. An intricate maggam work, stone work, kundan work or zardosi work outlining the cut out back gives the blouse a stunning look. A beautiful tie back tassel on the back adds extra galmour to the blouse.
16. Blouse with Artistic Sleeves
Sleeve length and style make a dramatic impact on the look of a blouse. It's an important design element and an essential part of making the bride feel comfortable and confident on her special day. A simple embellished blouse with attractive sleeves like the ones shown below (designed by Bhargavi Kunam) can add glamour to your traditional outfit.
17. Olive embroidered quarter sleeve blouse design
Let the sparks of style shine bright as you walk down in this bottle green olive colored embroidered quarter sleeve blouse deign. With patterns and craft that epitomize the rich cultural heritage of India, this blouse is a sheer representation of the exotic appealing past. This is a visual treat for all those who are fond of fashion and follow it quite closely. So, if you're one of them, don't lose your chance to weave the tale of romance and nothing better than the intricate bird design.
18. Back Neck Pattern
Blouse back neck pattern plays an important role in the over all look of the blouse. There are several blouse back neck styles like round back neck, sweetheart neck blouse, square neck blouse, V neck blouse, boat neck blouse, U neck blouse etc. Choose the style best suited for your body type. Here are some interesting back neck blouse patterns for silk sarees.
Latest Trends – Wedding Silk Sarees' Blouse
Nowadays Net Blouses and Velvet Blouses are in the current fashion. Coller Neck Blouse and Full Sleeves are getting in trend in the Wedding Collection of Blouse Designs.
Young Girls mostly prefer to wear backless blouses therefore for them Net Back Blouse Designs are in our collection to give them more pretty looks.
Tips For Blouse Design
If your are preparing heavy embroidery blouse design, then keep simple shiffon saree with that or also can take simple printed saree.
As blouse is printed, then keep saree plain or simple border designed
Also make some hairstyle matching to the saree pattern to look stylish and different
And also wear heels with saree and some accessories with the saree to get some traditional look
Anita Dongre Designer Deep Back Pink Blouse With Zari Work
This bright pink blouse by Anita Dongre takes the forefront and relegates the entire ensemble to the background.
Its shocking pink colour makes it really stand out, and its gorgeous detailing on the peripheries will draw both envious looks and nods of agreement.
Either way, it's a great looking blouse and a great option for party wear, especially when paired with a beautiful plain light colored saree as above.
The combination of a plain saree and delicately embroidered blouse makes this a great evening wear option, even for formal occasions.
PRO TIPS
Keep these tips in mind before opting for a deep back blouse. Time to bring sexy back!
Clean your back and wax it so that you can go ahead and flaunt it with confidence.
Choose your bra perfectly so that it does not show up when you put on your blouse.
Fasten all of the strings, hooks and clasps perfectly on the back of your blouse.
Choose your hairstyle to match your blouse. For example, if you're showing off your back, wear your hair up.
For an enhanced effect, you could use mehndi or other temporary tattoos to go along with the blouse and add more style to your look.
Source : http://www.sadibyah.com/top-10-blouse-designs-wedding-silk-sarees/
Your Guide To Wear Jewelry At The Beach
Whoever said that you can't wear jewelry at the beach is wrong. With so many different styles and designs of beach accessories trending in the market, it is hard to keep yourself away from that collection.
You are probably concerned about your jewelry when wearing them at the beach. No worries, we have got your back. This guide will help you pick the best beach jewelry and also tell you how to take care of them. So without wasting any more time, let's get to the details.
Don't forget the hazards
When you are at the beach, you must be careful of all the hazards around you. By hazards, we mean sand, salt water, and sun exposure.
Sand between your toes might feel comfortable, but it's not good for your jewelry. When the tiny grains of sand rub against your jewelry, they can cause significant damage to your pieces. On the other hand, saltwater from the sea can stain or tarnish your jewelry. Even strong sunrays are bad for your beach jewelry. It can affect the metal or dull the sparkle of your gem.
So these are some of the concerns you need to take care of. It is advised you take off your pieces before getting into the water. Plus, you should prevent your jewelry from direct sun exposure.
Keep it simple
Wearing beach jewelry like handmade pearl choker, shell bracelets, etc., is fine. But you shouldn't overdo it. What we mean to say is that you should keep your style simple.
You go to the beach to relax or get a nice natural tan. Consider wearing small pieces so it doesn't result in big tan lines. Also, bigger pieces tend to get stuck in your swimsuit or tangled in the air.
Go for small and lightweight jewelry pieces that are easily manageable. To get a better idea, you should check out some reference pictures on the web.
Carry a few sandwich bags
Yes, you read that right! Before diving into the water, take off your jewelry and store it in those bags. This is a good way to keep your jewelry safe. Plastic sandwich bags are reliable and waterproof.
Keeping your jewelry in a plastic bag not only keeps it safe from the elements, but also reduces the chances of you losing it in the sand. Make sure that the sandwich bag is durable enough.
Consider the metal type
When buying beach jewelry, you must also consider the metal it is made of. This is because certain metals can handle the hazards better than other types.
For example, sterling silver, pewter, and copper are likely to tarnish from contact with salt water. Better choices are platinum and gold, as they are resistant to tarnishing.
If you can follow these simple tips, you can wear and flaunt your beach jewelry without any worries. Make sure that you take good care of your pieces after wearing them to the beach. Some jewelry may require heavy cleaning after coming in contact with sand and saltwater.
Tim Gunn on Fashion, Florals and the Royal Wedding
Tim Gunn, America's favorite fashion mentor, is best known for his work on Project Runway alongside Heidi Klum. Through his subtle wit and attention to detail, Gunn redefined the understanding and appreciation of modern fashion as we know it. On meeting him a few weeks back when he was getting ready for the Command x Gilt Pop Up Shop in New York City, I was gratified to realize that in-person, Gunn is gracious, wickedly sharp and incredibly kind. In other words, Tim Gunn personifies his catchphrase and seems to always "Make it work."
In addition to his keen knowledge of fashion, Gunn has an almost encyclopedic knowledge of design history. He spouted architecture tidbits and design history and proudly referenced his past at Parsons School of Design where he served as associate dean before becoming Fashion Design Department chair. I'm certain I blushed fiercely when I mentioned teaching a class I developed in partnership with French luxury goods conglomerate LVMH. Gunn asked me the name of the course, and when I told him, A Short History of Beauty Culture from Cleopatra to the Kardashians, he drolly responded "Well, at least I like the first part, let's just skip the ending."
Gunn shared some of his thoughts on how to update your personal look and your home without breaking the bank.
Flowers everywhere: Floral patterns tend to pop up frequently during the spring, with this year being a flowery fashion bonanza. In case you're wondering, florals go in and out of fashion for clothes, but they can be really tricky when used in home decor. "I think with interiors it's different," Gunn said, "because you're living it and not just wearing it." He referenced hyper-feminine and florally infused designer Betsey Johnson saying, "I don't know how Betsey Johnson lives, but I would imagine it's like her clothes. That's got to be hard." If you're a die-hard floral fan, Gunn suggests using it in limited quantities and spread throughout your home instead of in high concentration in certain spots. Bedrooms and sofas could work, dining rooms—not so much.
With all this talk of florals and royal wedding mania, I was sure that the chintz and cabbage roses traditionally favored by the royal family would set off a craze on our own shores. Not so, according to Gunn. And though he covered the wedding of Prince William and Kate Middleton for ABC News back in 2011, he's not really planning on binging the upcoming nuptials of Prince Harry and Meghan Markle. It's a style thing he said, and he isn't really expecting much of a "celebration of fashion there."
Your home vs. your personal style: Gunn said even in the fashion industry, one can grow tired of looking at eye-catching items all day. "You're surrounded by beauty all day and sometimes you just want to shut it off," he said. For that reason, his own home is decorated in muted shades and neutrals. "I feel like our homes truly are like a nest, the one place where you have to feel comfortable. I have a very neutral palette to my apartment inspired by the colors of limestone. Color is having a moment, but if that's not your thing you can achieve the same effect with artwork. And keep moving everything around your home- the furniture, the artwork, the rug that doesn't serve you, the upholstery you never liked. Just because something has been in your family for generations doesn't mean it will work for you. I use artwork to really bring in more palpable color."
Get Moving: Gunn grew animated when talking about his partnership with Command, the brand better known for their sticky strips and hooks. As he explained it, you can update your home all the time by switching things around regularly. "I think color can revive you and your home," Gunn said. "In my home it's all the colors of my book collection. I think people don't realize how you can change the look of things by repositioning them. I move things around as opposed to trading things out, so it always feels new."  The new invisible or decorative items in the line allow you to hang your art temporarily and keep moving it around. Gunn also artfully arranged small gold hooks that can be used as decorative in and of themselves, or more glam when hanging favorite pieces of jewelry. "I like that you can move something 3 inches to the right, or change an arrangement in a room and change everything," he said. "But don't just change one part of a room, because moving pictures or furniture changes the proportions of the room and the visual relationships between what's on the wall and what's around it."
Decorating battles: Meanwhile, what do you do if you live with someone who has terrible taste? Do you have to let them add their zebra printed metallic table to your living room? "You pick your battles," Gunn said. "I'm not sure there's one right way to solve it," he said gesturing to an extremely shiny rhinestone and metallic pillow. "Maybe you add a pillow. No, not even a pillow. Maybe you add a border–a very thin border– and leave it at that."
P.S. I tried some of Tim's tricks for quick spring home updates. After struggling to arrange some hooks in a vee shaped design I kind of gave up, but my walls overall look so much better!
Original Article by: Parade